Click to visit An Island Life
The premise is simple: Friday is a great day to kick back, take it a little easier...so Aloha Friday, hosted by An Island Life, is a blog hop with one simple rule. You post a short question, everyone can answer how they like, then check out as many other blogs as they wish.
Our question here today: If robins are spotted this week in your yard, is it a sign Spring is on the way?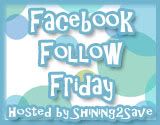 Click to visit Shining2Save
We also joined Facebook Friday, hosted by Shining2Save, Boost My Blog Friday by Design It Chic, and Fun Follow Friday hosted by Simply Stacie and My Wee View. You can check out any of the participating blogs simply by clicking on the logos.
You just might like some of these blogs!
Enjoy! And Happy Weekend!!